Investment opportunities
Industrial Park I is located in Oradea, on Calea Borșului, about 4 kilometres from the Borș customs on the Hungarian border, and 70 kilometres from Hungary's M3 motorway. The total area is 144.73 hectares. The value of the reference/base price of the land is equal to the value of the price of the land/sqm resulting from an Appraisal Report drawn up by an independent expert appraiser member of the National Association of Appraisers, for each parcel identified separately in terms of cadastral number and represents the minimum starting price in the Open Tender and Direct Negotiation procedures.
The sale-purchase contract with payment in instalments and reservation of ownership is concluded for a minimum period of 25 years and the auction/negotiation rate charged by the park manager is invoiced annually. The land can be paid in advance immediately after the fulfilment of the commitments related to the realization of the investment and the staff employed and additionally an administration fee of 0,5 euro/sqm/year without VAT will be paid.
Occupancy Rate - It is in Percentage of 100%
The occupancy rate of the Industrial Park Oradea I can be seen on the map below. For further information, please contact us by phone or fill in the contact form available on our website.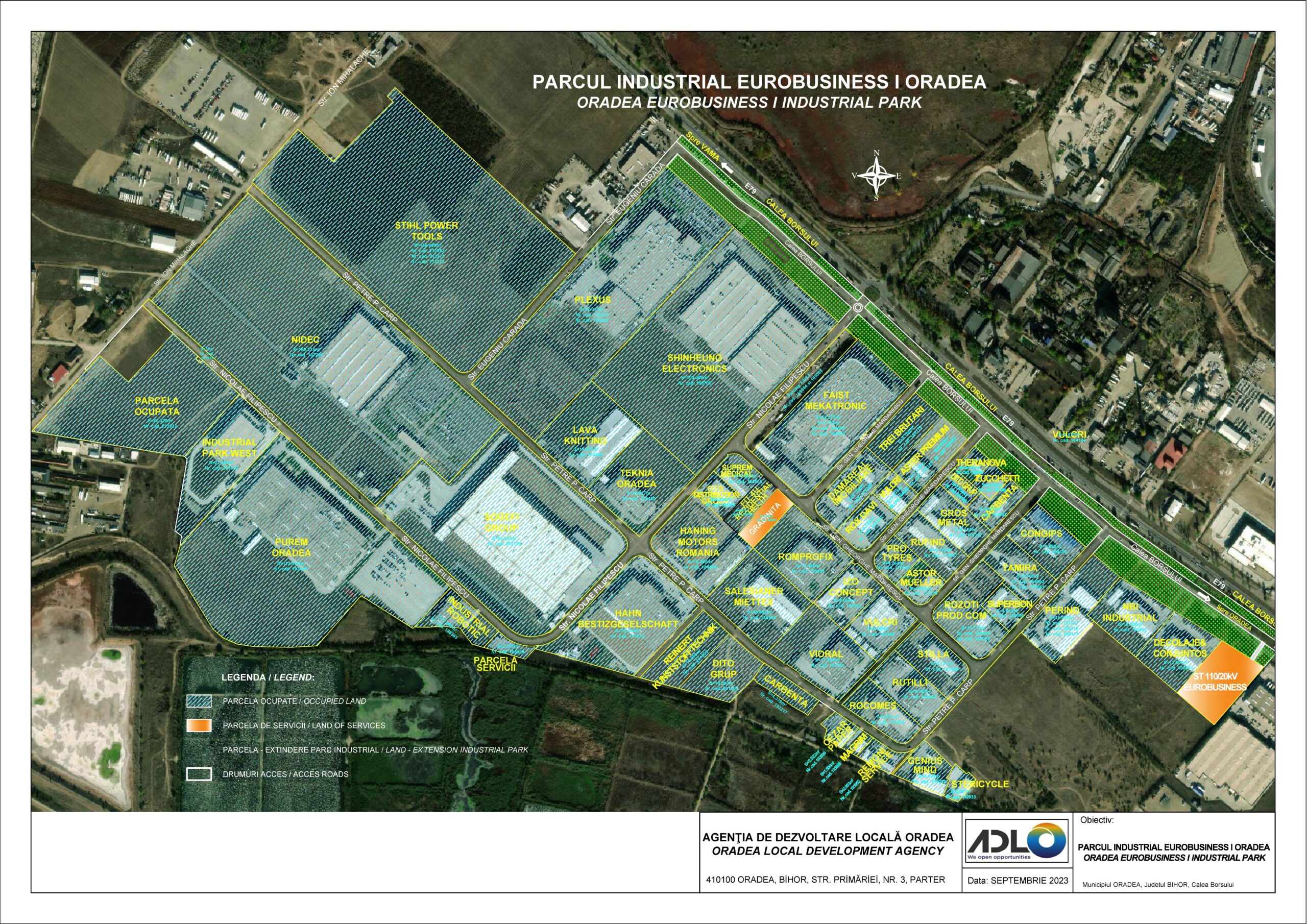 Tax Facilities
Residents of Industrial Parks benefit from tax breaks consisting of exemption from land and building taxes, as well as exemption from paying other taxes. There are three City Council resolutions regulating this.
For investments of less than €10 million, de minimis aid is granted and for investments of more than €10 million, regional state aid is granted, both within the ceiling set by Ministerial Order 2980/2013.
Industrial Park I is a Greenfield park, so the offer promoted is not only based on a low cost for the land but also on a complete network of utilities. The following utilities are provided within the park:
Sewage network
Inland road network
Water network
Public lighting network
Electricity network
Thermal agent networks
Telecommunications networks
Natural gas network available in the park. (for connection contact SC Distrigaz Vest S.A.)
Eurobusiness I Industrial Park Operating Regulations
The operating regulations of the Eurobusiness I Industrial Park Oradea are an essential document to ensure good management and coordination of activities within the park. This regulation sets out the rules and conditions to be respected by all park users and tenants in order to ensure a safe, efficient and sustainable working environment.